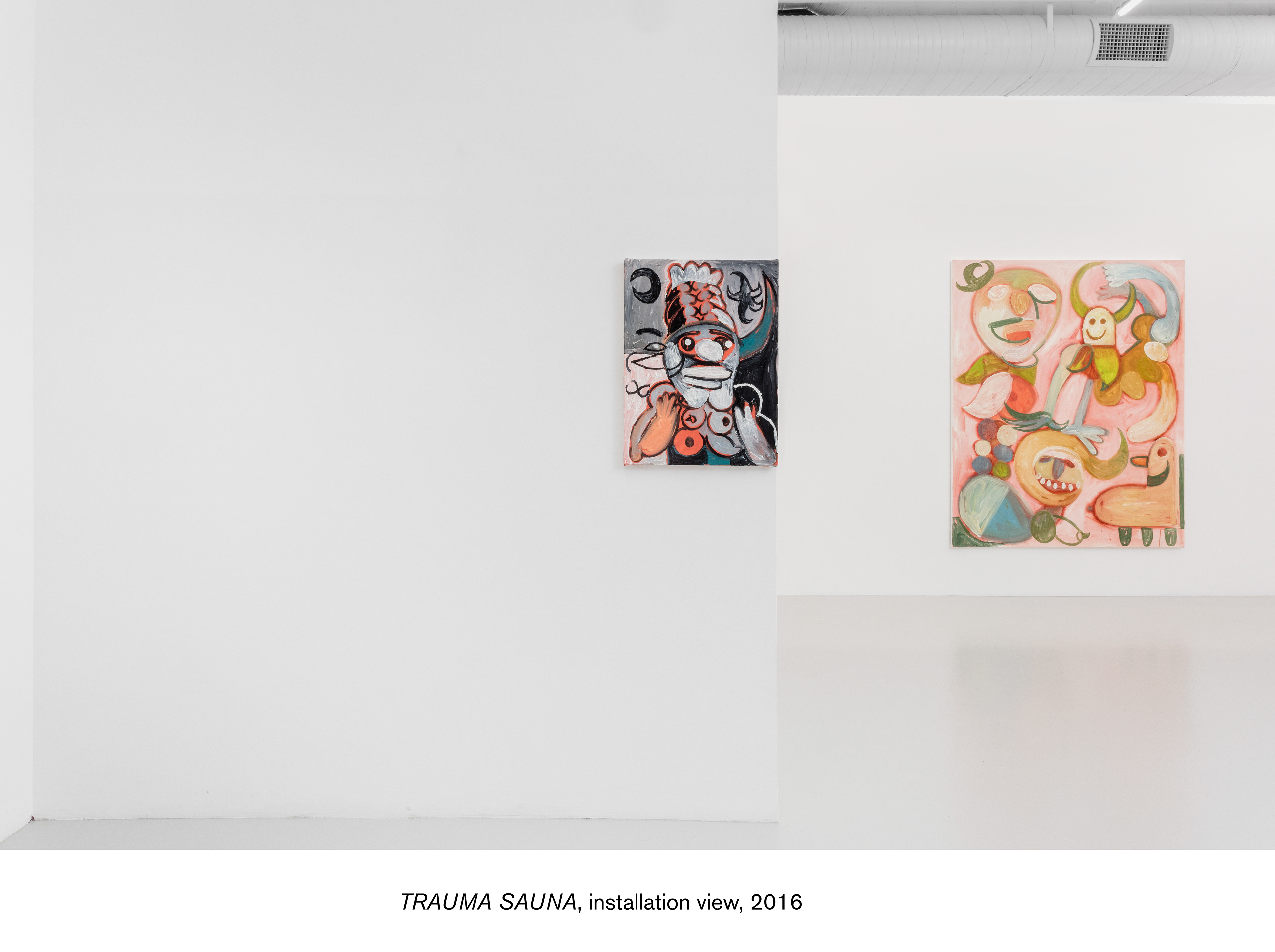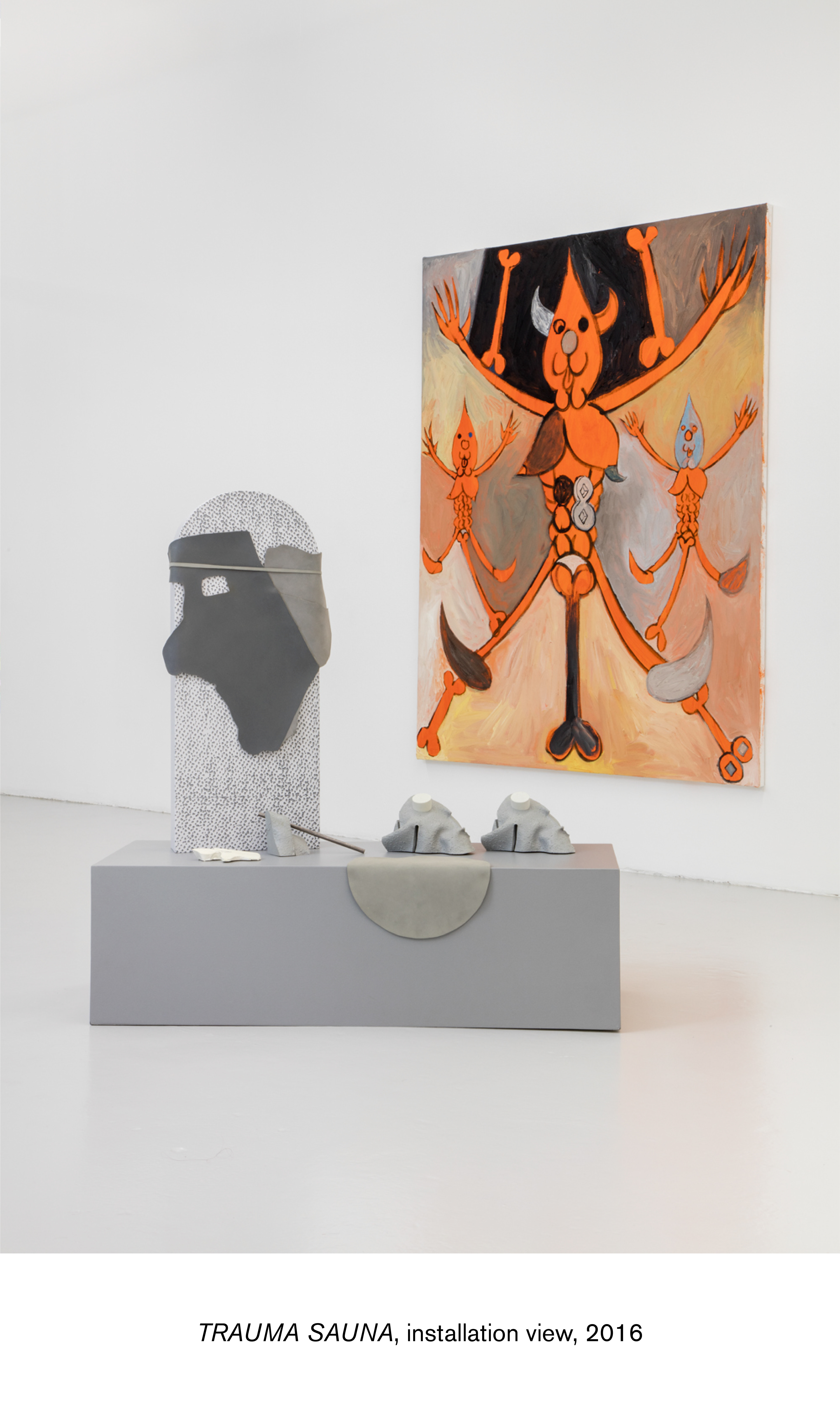 ASHES/ASHES is pleased to present 

Trauma Sauna

, an exhibition by Brian Kokoska featuring Chelsea Culprit, Erik Frydenborg, and Ben Stone. The exhibition will be on view September 10 – October 22, 2016, with an opening reception on Saturday, September 10 from 7–9pm.
Trauma Sauna

presents a new series of paintings by Brian Kokoska within an installation of sculptures by Chelsea Culprit, Erik Frydenborg, and Ben Stone. Kokoska's paintings, built from layers of drawing and color blocking, deny any illusion of depth and instead focus on an almost-flat rendering of imaginative scenes inhabited by androgynous figures, mystical creatures and frolicking devils. Crescent moons, stars, bones, genitals, flora and fauna are among the motifs that obsessively reappear, often anthropomorphized and evoking anxieties of sex, ecstasy and death. Accompanied by their morbidly playful and poetic titles, Kokoska's paintings are gestural interpretations toward a fleeting experience or unknown place that is intentionally left murky and resistant to any one definitive perception by viewers.
In his installations, Kokoska frequently incorporates sculptures by other artists as a device to create dynamic, multi-authored environments, placing the characters in his paintings into a concrete "home" or pretend relational habitat. The somber, monochromatic sculptures in the foreground activate Kokoska's lively, erotic and grotesque paintings, creating a silhouette-like effect in which the relationship between figure and ground is reminiscent of a domestic interior, stage set, or mausoleum.
Brian Kokoska (born 1988, Vancouver, BC) lives and works in New York, NY. Recent solo and group exhibitions include: Hush Hook, LOYAL (Stockholm), I'm a horse now, East Hampton Shed (East Hampton), Poison IV, Valentin (Paris), Rare Angel (with Debo Eilers), American Medium (Brooklyn), and Blood Reply, Ohmydays (Singapore). His work has been featured and reviewed in Mousse, Dazed, New York Observer, Art in America, The Philadelphia Inquirer, Elle México and VICE. A recent essay on his work by Alex Bacon was published in Notion Magazine. Forthcoming exhibitions will take place at Frank F. Yang Art & Education Foundation (Shenzhen) and COMA (Sydney).
Chelsea Culprit (born 1984, Paducah, KY) lives and works in Chicago, IL and Mexico City, MX. Recent exhibitions include: Miss Universe, Yautepec (Mexico City, MX), PAGAN SLUTz, SPF15 Exhibitions (San Diego, CA), and Blessed with a Job, Queer Thoughts (New York, NY).
Erik Frydenborg (born 1977, Miami, FL) lives and works in Los Angeles, CA. Recent exhibitions include: Roman à Clef and/or the Appetite of the Chef (Part 2), Rainbow in Spanish (Los Angeles, CA), An Erik Frydenborg Omnibus, The Pit II, (Glendale, CA), and Nebula Winners, Andrew Rafacz Gallery (Chicago, IL).
Ben Stone (born 1968, Chicago, IL) lives in Berwyn, IL and works in Chicago, IL. Recent exhibitions include: Ben Stone, Western Exhibitions (Chicago, IL), Chicago and Vicinity, Shane Campbell Gallery (Chicago, IL), and Ryan Travis Christian Presents 21st Century LOL's, Left Field (San Luis Obispo, CA).
On view in LA/DW~PS is Chelsea Culprit's 

nightshift

 (2016).