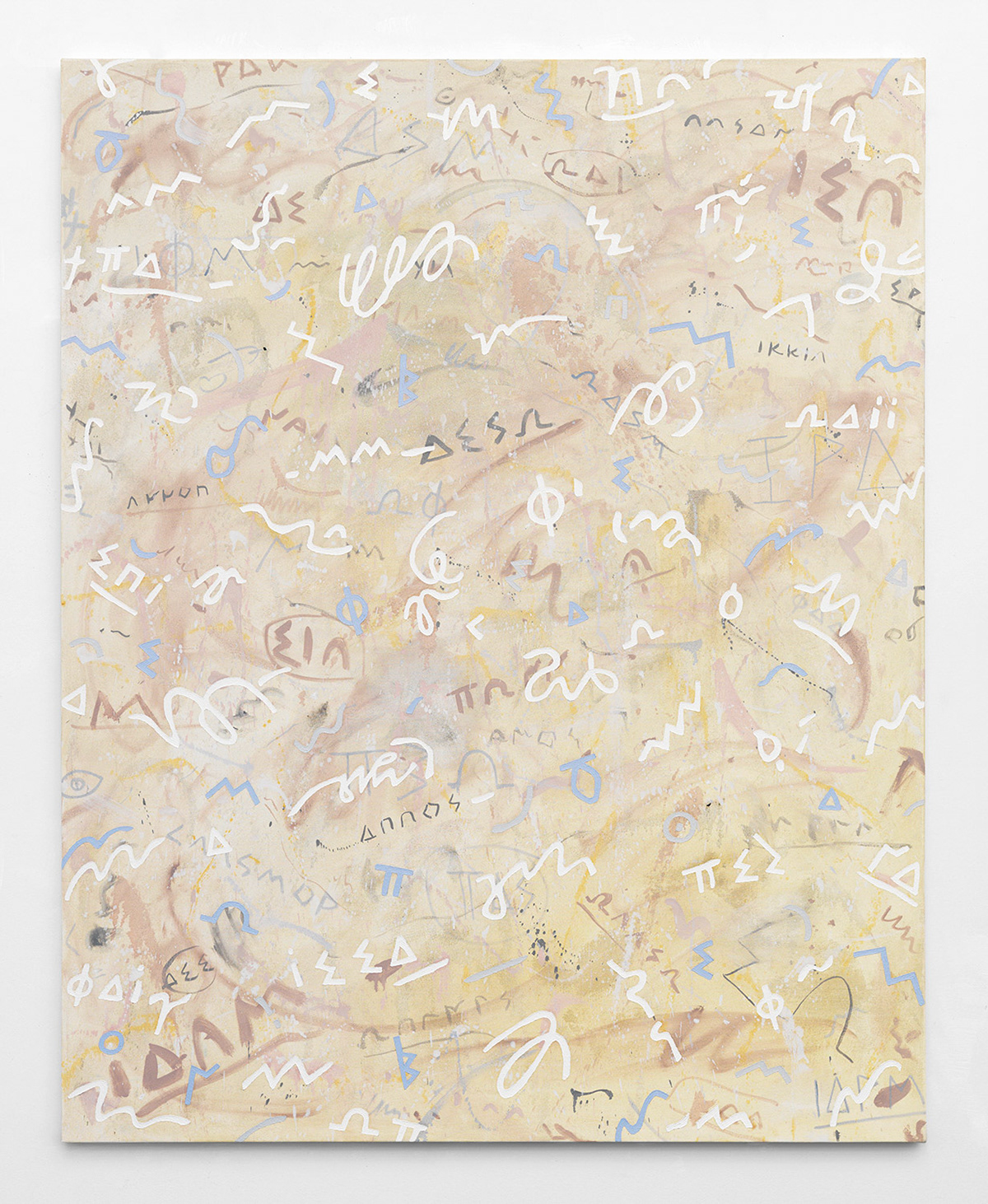 ASHES/ASHES is pleased to present

For Ammonis, Who Died at 29, in 610

a solo exhibition by Timothy Hull, his first with the gallery. The exhibition will be on view May 14 – June 25, 2016, with an opening reception Saturday, May 14th from 7–9pm.
Referencing the poetry of CP Cavafy, this new series of work further articulates the complex territory of language, memory, history and sexuality at play within Hull's idiomatic painting. With richly steeped allusions to the ancient world and the Greek language, CP Cavafy's poetry merged Classical and homoerotic themes, often referencing his home city of Alexandria and its confluence of Latin, Greek, Coptic and Arabic languages and culture. His 1917 poem "For Ammonis, Who Died at 29, in 610" is composed as an epitaph mourning not only the death of a beloved young poet but also Alexandria's broader shift away from Greek language and culture in the 7th century.
Mining Cavafy's elegiac prose and the context of inconsolable loss, Hull's newest paintings incorporate an imperfect retelling of a continuity of past events, untethered to one specific moment or point. This imperfect tense, as applied through Hull's painting, is a form where the incidence of linguistic, iconographic pastiche and raw sentimentality cohabitate beyond the constraints of time and place: ancient ruin and contemporary obsolescence become indistinguishable.
Erotic and poetic narratives are wrought through Hull's richly textured and sprawling surfaces patterned with iconographic Greek, Coptic and early Arabic glyphs and imagery laid out in painterly washes, splashes and splatters. Recurrent motifs of Attic vases and silhouettes of the erotic figures of Kourous and Endymion are featured in a series of portraits. In another series, a stacking of painted tablets address the obfuscation of linguistic memory over time. In his intense layering and geometric abstraction, the density of Hull's composition is formally loaded with the sensibilities of abstract art rubbing against a camp imagining of a Classical past.
As semiotic and pictorial amphorae, each of Timothy Hull's paintings carry the tension between an imperfect past and anachronistic present, becoming dialectical spaces that are as equally befitting to ancient Alexandria as they would be to contemporary visual identity.
Timothy Hull (born 1979, New York, NY) received an MFA at Parsons School of Design, New York, and a BA at New York University, New York. Recent solo exhibitions include:

Painting in the Imperfect Tense

, Klaus von Nichtssagend Gallery, New York (2016) and

Pastiche Cicero

, Fitzroy Gallery, New York (2014). His work has been included in group exhibitions at Mitchell-Innes and Nash, The Hole, FRAC Lorraine, Tate Modern, the Morris Museum of Art, and the Nomas Foundation. His work has been featured and reviewed in the New York Times, Artforum, Art in America, Flash Art, Interview Magazine, the Los Angeles Times, and the San Francisco Chronicle.
On view in LA/DW~PS is

EVO_o

(2016) with Timothy Hull and Loney Abrams & Johnny Stanish. Loney Abrams & Johnny Stanish are a collaborative duo based in New York. Recent exhibitions include:

Gluteus Maximus

, The Java Project, New York (2015) and

Material Art Fair

with Regina Rex, Mexico City (2015). Forthcoming exhibitions include:

So much dirt but not enough soil

, The Knockdown Center, New York (July 2016) and, with their ongoing curatorial project hotel-art.us,

Remains of the Day: Might, Will Return

, co-curated by Keith J. Varadi, Dodger Stadium Parking Lot, Los Angeles (June 19, 2016).