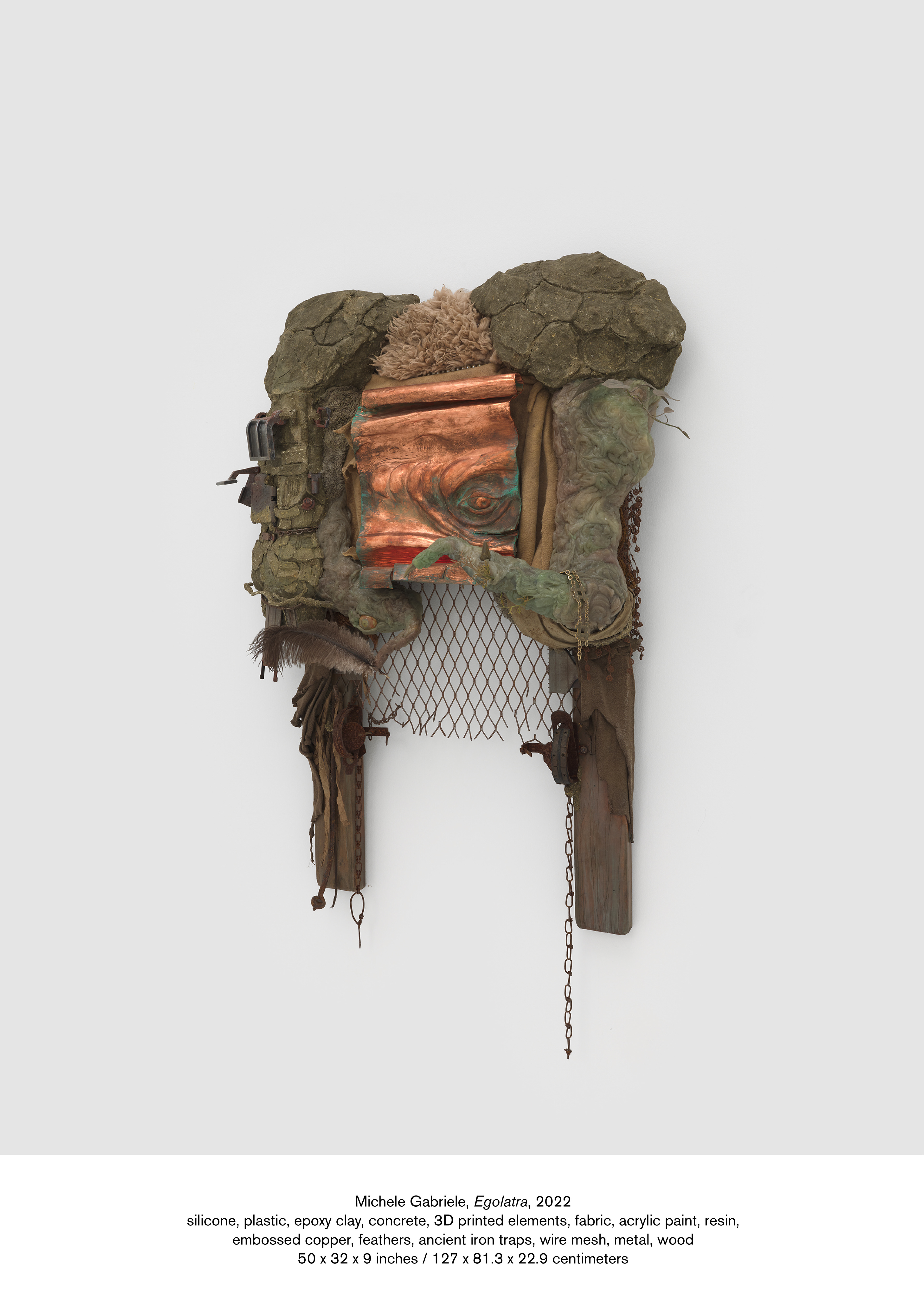 ASHES/ASHES is pleased to present

Remarkably Clear, Almost Invisible

, a two-person exhibition by Monia Ben Hamouda and Michele Gabriele curated by Anthony Discenza. The exhibition will be on view from July 1st to August 14th, 2022, with an opening on Friday, July 1st, from 6–8 pm.
Remarkably Clear, Almost Invisible

, Ben Hamouda and Gabriele's first two-person exhibition in the United States, represents the culmination of a two-month stay at lower_cavity, an invitational artist's residency in western Massachusetts. Over the course of their residency, Ben Hamouda and Gabriele worked simultaneously on new works for the exhibition at ASHES/ASHES and on two large-scale installations for lower_cavity's subterranean project space. Both projects speak to and across each other, finding valences between the artists' practices. 
Considerations of distance and convergence are at play in both Ben Hamouda and Gabriele's work. For Gabriele, the sensibilities of speculative and dystopian fiction operate as a framework through which an unruly materiality labors to articulate itself. His work embodies a post-human, post-technologic iteration of the Grotesque, wherein all forms of matter—organic and synthetic, animate and inanimate—commingle in a journey towards a chaotic equilibrium; an uncouth paradise in which hierarchies of every sort merge and dissolve. Underlying these concerns is a more epistemological reflection on the unreliable gulfs that lie between perceiver and perceived, between viewer and artwork. Inhabiting a world in which any notion of the human is little more than a vague memory, his creations pass the time in quixotic contemplation of their own hybridized nature. 
Born into a Muslim community as the daughter of an Islamic calligrapher, Ben Hamouda navigates distances between complex histories–of art, culture, language, and religion–reconciling these polarities through a personal poetics articulated through a syntax of gesture and raw materiality. The two sculptures presented here are part of her series

Aniconism as Figuration Urgency

(2021 – ongoing), which applies pressure to Muslim culture's injunction against figurative representation. These laser-cut, spice-encrusted steel works, equal parts drawing, sculpture, and painting, rework traditional calligraphic forms into a discordant and compound composition, teasing the viewer with echoes of deferred linguistic meaning and richly olfactory associations. Her materials (metal, wood, powdered North African spices, charcoal) serve as conduits through which she channels the divergent forces that have shaped her—talismanic performers in a ritual that manifests the struggle between the strictures of tradition and an unbounded urge to self-expression. 
Monia Ben Hamouda (b. 1991; Milan, Italy) lives and works between al-Qayrawan and Milan. Her work has been presented at: ChertLüdde, Berlin; jevouspropose, Zürich; Art Basel, Basel; ARIEL – Feminisms in the Aesthetics, Copenhagen; MiArt, Milan; Museo Salvatore Ferragamo, Florence; Et al., San Francisco; Ada, Rome; Galerie Valeria Cetraro, Paris; Universitätssammlungen Kunst + Technik, Dresden; Alios 16ème Biennale d'Art Contemporain, La Teste-de-Buch; Marselleria Permanent Exhibition, Milan. 
Michele Gabriele (b. 1983; Fondi, Italy) lives and works in Milan. His work has been presented at: NAM – Not a Museum, Manifattura Tabacchi, Florence; Anno Domini, New York; 9th Berlin Biennale for Contemporary Art, Berlin; Studio E1, Paris; Alios 16ème Biennale d'Art Contemporain, La Teste-de-Buch; Gossamer Fog, London; Konstanet, Kunstihoone Art All, Tallinn; Nevven, Göteborg; Fondazione Pini, Milan; Et al., San Francisco; Marselleria Permanent Exhibition, Milan; Galeria da Boavista, Lisbon; OSLO10, Basel; Fondazione Spinola Banna, Turin; Museo Carlo Zauli, Faenza.
​​​​​​​